The Tools and Toys page.

Welcome to my Tools and Toys page.
On this page I will display my new tools, toys and other gizmos that I buy or fabricate. Yeah, I know it
might be considered a little "show off", but I think it can be useful for people looking for ideas for stuff,
or want a review on stuff they think about buying.
Remember, all opinions expressed here are mine. This is how I do things, how I feel about things, and
what I think about stuff. Your mileage may vary.

All pictures are clickable for a larger version of them.
So far this page contains the following:
1. Welder.
2. Workbench.
3. Welding helmet.
4. Hole saw set.
5. A Creeper.
6. Engine leveler.
7. Hammers and dollies.
8. Body jack.
9. Bending brake.
10. Slide hammer.
11. Some air tools.
12. A new vise.

1. A new welder.
At last I got myself a new welder. Well, not a new one, a second or third hand one. It was
practically given away so I just couldn't resist it as it was of my favorite brand ESAB. It's a 200A
three phase machine, model Power Compact 200. Pics below.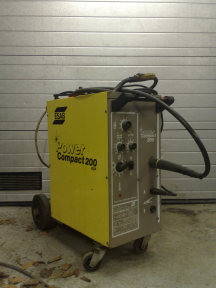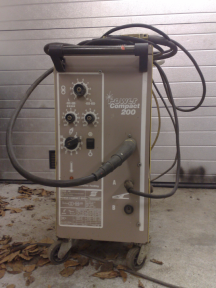 The new welder. Weight about 170 pounds and I loaded/unloaded it by my self. Ouch!!
I did a short test run with it as soon as I got a bottle of gas for it, just to make sure it was okay,
and thought it ran quite well.
Now, after welding a bit with it, I must say that this is the best welder I ever used!
It welds very smoothly with almost no spatter and the burn-in is just perfect. Nice even welds
that look perfect, even when seam preparation isn't perfect. Wow!
This welder beats everything I worked with earlier and that includes but is not limited to all the
welders listed below.
Kemppi Kempomat 150 – This one is simply too weak. Had problems even with sheet metal.
Kemppi Kempomat 163 – Better than the one above but too "hard" in its characteristic.
Kemppi Kempomat 253 – Pretty good welder, fairly smooth but likes to burn through material.
Miller MillerMatic 250 – A really nice welder. Almost as good as the Esab PC200. But not quite.
Esab LDM 300 + A10 – This is an industrial welder. Very nice, but too big for the stuff I do now.
Esab Smashweld 180 – Good welder for up to 1/4" and sheet metal. A little rough characteristic.
So, if you're shopping for a welder, take a close look on the Esab Power Compact 200!
2. A new workbench.
I've also cleaned up a bit in the garage and built a new work bench today, including a new vise.
This is a thing I've wanted to do for a long time as I have felt the need for a place to do slightly
heavier stuff than fixi'n up a fender or two... Now, if I only could figure out how to double the floor
space everything would be honky-dory...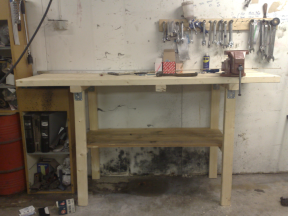 My new workbench. Had to keep it small, just 2' by 6'. Bolted to wall and floor.
I built the workbench from 3x2" wood, and it's put together with screws and steel brackets. Maybe
not the most beautiful workbench but plenty sturdy and will do the job all right.
It came out a little too high, but that's better than too low. Easier to fix anyway.
3. A new welding helmet. As I got the new welder I thought a bit about getting one of those new, shiny, bright thingies for
eye protection that automagically get dark when you start to weld. The ones I have seen before
have been extremely expensive so I did hesitate a little. Good thing I did that, because now I found
one at a very fair price, and I bought it of course...
The Optech S-998 that I got is actually very good when you get it dialed in right. It's quite easy to
adjust and works like a charm. The only thing I find a bit annoying is the adjustment for force needed
to tilt the helmet up and down. It has a little "made in China" feeling, but at the price it is going for I can
live with that. Just the feeling of having both hands free makes this a good buy!
4. A hole saw kit.
This is a must have for any one doing metal work. I found this kit on sale at 50% off, and I can tell you
that it really mattered... I would never have bought it at full price. Bahco tools are top of the line quality
and they don't come cheap!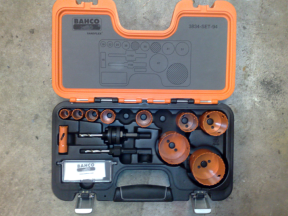 The hole saw kit. The empty slots are supposed to be there...
5. A Creeper.
I dont know how I managed without one before... But that can be said for all of the stuff on this page.
No more freezing my butt off on that cold concrete floor. No more throwing blankets on that dirty
concrete floor either.
This "Big Red" creeper is very soft and comfy to lay down on and really invites you to fall asleep. It also
folds up to a nice comfy shop chair right when you need one, so that's a big plus also. The only things I
think is a little "el cheapo" are the wheels as they want a flawlessly smooth floor to roll easy.
Anyhow, I like it!
6. Engine leveler
This is a tool I considered a pure luxury and a bit of a "sissy tool" before. No more so. I recommend it
to anyone that will do an engine and tranny swap more than once in a life time.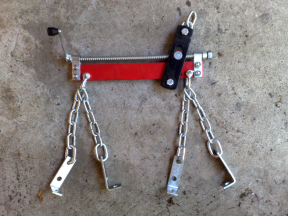 This is also a "Big Red" tool, and the quality is quite okay for the price of it. A really great helper to
get an egine and tranny combo angled right to get them in smoothly without damage to either the
engine compartment or your back.



7. Hammers and dollies.
These are just a must when working with sheet metal! There's no way around it, a set of hammers
and dollies pays for them selves at least one time every dent you use them on. This set was cheap
and of a little suspicious quality, but they have saved the day more than once.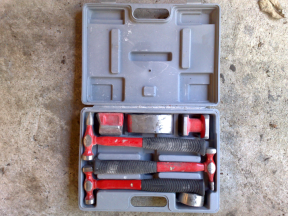 As you can see in the picture these have been used extensively both on my own rigs and others.
Actually I prefer hammers with a wooden handle, but considered the difference in price I can live
with the slightly off-balanced fiberglass handles.



8. Body jack.
A body jack is a good thing to have when dealing with a little larger sheet metal damages. Like
when I rear-ended a cop car with my old ambulance... If you know how to use it, and know how
sheet metal behaves under preassure, you can do almost anything you'll need with this one.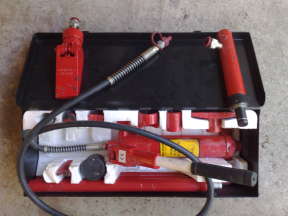 This is a 4 ton unit which is enough for about anything except to straighten a frame. For that there
is a 10 ton unit which is much heavier and thus much harder to handle. When I need a 10 tonner
I'll get one. I've worked this one pretty hard and it has help up well.
9. Bending brake.
A bending brake is a good thing to have when working with sheet metal. I just got one and it has
already been in use quite a lot. This thing saves time when making body panels. Capacity of the
brake is 0.6 mm at full width according to the spec sheet, but I bent double that thickness at not
quite full width more than once without any problems. Maximun width is 710 mm.

Yes, it was cheap. But it works pretty well and the quality is pretty good for the price price I paid.
The only thing I don't like about it is that the handles are just pushed in and not secured in any way.
The possibility of the handles slipping out while bending is not that big, but you have to make sure
they're seated well every time you use it.
But as I always say, you get what you pay for, so I shouldn't complain. The better version of this
brake is three times the cost, and not worth it considering how often I use it.
10. Slide hammer.
The perfect tool for pulling dents. Well, hand tool that is. The ultimate tool would be a body jig with
lazer measurments and hydraulic pullers, but that's a bit out of my league (yet).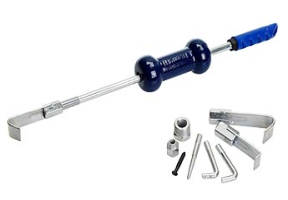 Another cheap, made in China, tool that I got. But hey, it does the job it's supposed to do and there
isn't many things that can break on a thing like this. It comes with a one year warrantee and if it
breaks within that time I get a new one. If it breaks after that, I guess I have to shell out another $12.50
for a new one.
It comes with a two soft sheet metal hooks (they suck, too soft), two round steel hooks that are some
what useful, and two screws (one straight and one tapered). The two soft sheet metal hooks are best
used as "weld on" and pull dent. That's the way I use this tool anyway so it's not a big deal.
11. Air tools.
Some air tools are never a wrong thing to have. A half inch impact gun, a 3/8 inch air wrench, and a disc sander is
what's in the picture. Missing in the picture are the jackhammer, the sheet metal shears, and the paint guns.
I would have preferred to get Ingersoll & Rand air tools, they're the best, but they're also too expensive. So, I
had to go for the cheaper line. Not the cheapest though, I've got one real cheap impact gun and it blows. Never use
it anymore as I got a better one too...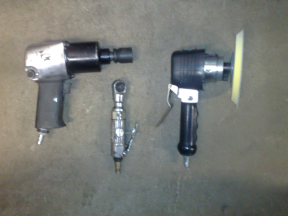 12. New vise.
Had to get a new vise as the old one cracked. This time I got one that is of forged and heat treated steel, not
just cast iron. I'll see if I can find the receipt of the old one and get a refund. If not I'll try to weld it
with some nickle rod and use it for light duty work.
So far I'm very happy with this new one, it has done all I ever wanted of it. Though, the price was three times
the old ones. You get what you pay for...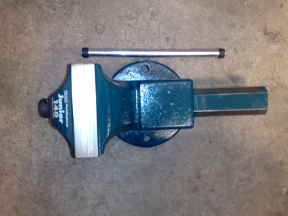 That does it for this update.... More to come soon!!